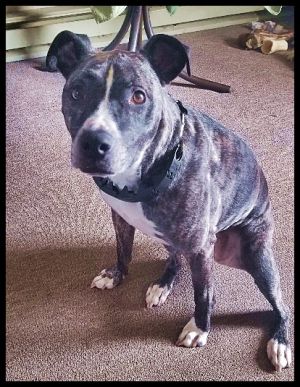 Pit Bull Terrier
Spayed/Neutered
Spayed/Neutered
Up-to-date with routine shots
Zeebah is a 7 years old, 48 pound Pitbull mix. She loves to cuddle with humans, go for walks and play at the dog park .She gets along with most other dogs and she loves children. We prefer her to go to a home with older children who will be gentle with her. Zeebah has a medical condition where her knee her knee caps have become fused outside of their sockets. Surgery will not help her condition. However, Zeebah is a happy girl and with proper exercise, anti-inflammatory medication and joint supplements she will live a long happy life. Zeebah is spayed, heartworm negative, and up to date on vaccinations (1 year rabies, 1 year DAPP4L) and will come with a three month supply of her medication and supplements along with all of her veterinary records. Zeebah is crate-trained, potty-trained and she walks amazingly well on the leash. She is a truly amazing girl who deserves a wonderful and caring forever home. If you are interested in adopting Zeebah, please contact Kaytee Hochstetler at 330-466-7018. Please note that this a courtesy listing and Zeebah is located in Wooster, Ohio.
Senior, Female, Medium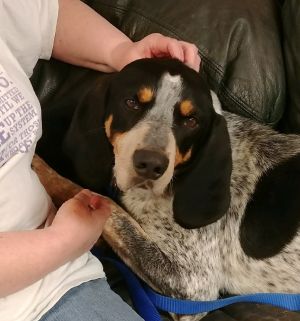 Bluetick Coonhound
Spayed/Neutered
Up-to-date with routine shots
Licking his lips in anticipation of finding the love that awaits him, amiable Ace, the Bluetick Coonhound aged at between 4 and 5 years, entered our care when a local dog warden found him wandering the streets. Although the sensitive 60-pound dog's hind area was sore, there were no apparent injuries, and with his medical needs met, he's healed and more than ready to move on to the next and, hopefully, best phase of his life. Highly treat motivated, he's learning his basic commands, and while he is, he enjoys going for walks, romping around the yard, and playing with the other dogs (he hasn't yet met any cats). Excellent in his crate, he's surprisingly mellow for a scent hound -- until he catches the scent of something scintillating outside. With his training progressing well, what this companionable Coonhound needs now is a patient and loving home with at least a 5-foot, securely fenced yard and no small children, to complete his education while keeping him mentally stimulated and physically satisfied fur-ever. For more information, please email us at info@neogreyhound.com. Because our email replies often end up in spam folders, please include a phone number where you can be reached and call us at 440-364-4838 if you don't receive a reply within a few hours.
Adult, Male, Large